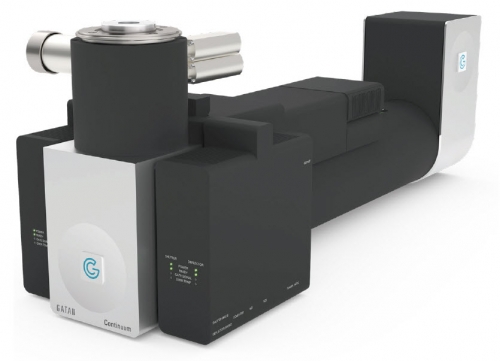 Model:GIF Continuum and Continuum S
Spec:EELS EFTEM
File (PDF):Not yet uploaded
Partner:Gatan



ADVANTAGES

The Continuum™ series represents the next generation of electron energy loss spectroscopy (EELS) and energy-filtered transmission electron microscopy (EFTEM) systems from Gatan. By focusing on simplifying the operation of energy-loss systems without sacrificing any of the power or flexibility, the Continuum series enables new levels of productivity and data throughput. Built around new and exclusive detector systems, the Continuum delivers outstanding detector speed and quality for both EELS and EFTEM applications.
>10X HIGHER PRODUCTIVITY
>8000 spectra per second at >95% duty cycle
>10x faster system tuning
Streamlined, workflow-based user interface
REVOLUTIONARY DATA QUALITY
Low-noise, high dynamic range CMOS detector
Improved MTF and DQE from new XCR™ sensor stack technology
Full gain correction in all acquisition modes
Exclusive dynamic focus control
Choose the K3™ electron counting direct detector for the ultimate EELS and EFTEM data quality