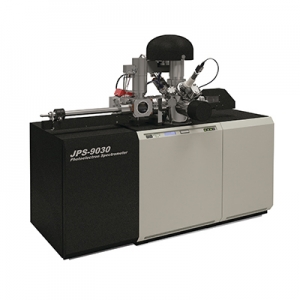 型號:JPS-9030
規格:
技術文件:尚未上傳
廠商:JEOL



Features
Improved depth profiling
The newly-developed Kaufman-type etching ion source provides etching rates from 1 nm/min to 100 nm/min (SiO2 equivalent), and allows a wide range of settings. It is capable of depth profiles suitable for any application, from measurements demanding precision to processes that require speed. The mounting of the Kaufman-type etching ion source to the specimen exchange chamber prevents the contamination of the measurement chamber.

Newly-developed software provides even greater ease-of-use
SpecSurf Ver. 2.0 now incorporates a ribbon-style GUI, offering a user-friendly environment in which all operations can be performed with the mouse. With JEOL's own automatic qualitative analysis function, it is possible to sequentially perform qualitative, quantitative and chemical state analyses for multiple acquisition points.

Ultra-high surface sensitivity
The JPS-9030 supports techniques like Angle-Resolved XPS (ARXPS) and Total Reflection XPS (TRXPS), and is capable of ultra-high sensitive analysis of the top surfaces of 1 nm (standard measurement method 6 nm or more).